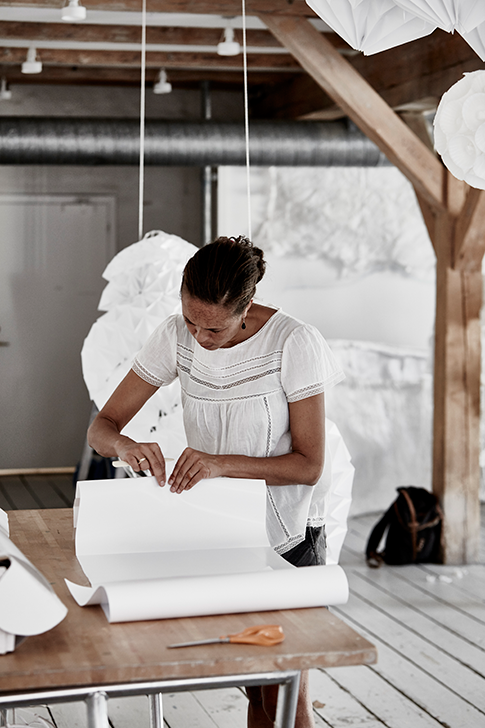 "Let the beauty of what you love be what you do"
Veronica Hodges (born 1972) is passioned about art and life. She creates papercut works of art, large scale paper installation, scenography and fashion items. Her inspiration stems from nature's beauty, existentialists themes and an ever-present curiosity towards the lifecycle of all things living and dying. Her goal is to display new layers of meaning through the exploration of the intersection between her installations, space and reception.
Throughout the years, she has entered into artistically and commercially successful collaborations with art and culture institutions as well as businesses, boutiques and shopping malls.
Veronica Hodges holds a degree in fashion design and scenography, obtained in 2002, and has worked in the film industry before committing completely to her present artistic practice.
Curriculum Vitae for Veronica Hodges
I work within the field of art fashion and installation. I work spacious installations and storytelling events. My goal is to get form, space and content to unfold in new dimensions.
2016 Paper installation for Rødovre Centrum 50 years of fairytales. On national broadcast tv show with paper art exhibition. Paper installation Århus storcenter Nord. Installation in the Nimb house in Tivoli Gardens Cph. side expo Venezia bienale. Nespresso event. Pandora event. Kat Florence exhibition London.
2015 Collaboration with Paper firm Antalis international exhibition at "kapselfabrikken Valby"
2014 Paper installation City 2 200 kvm2 area. "we reuse" recidency Norway Leveld.
2013 Scholarship at the Danish Art Workshops. Exhibition at Royal Copenhagen. Exhibition at the culture church Hol / Norway. " Wisdom of Birds " at the National Museum.
WOB at the Glyptotek, Sunday's concert. Swimming meditation in Østerbro public pool.
Kierkegaard " Emptiness, fear and Love" in Lyngby -Taarbæk library. Set design / costumes for the blue planet / waterfalls Viborg. A cooperation with the "culture prince" Viborg and Odin Theatre. Exhibition at Godsbanen / Aarhus / Images festival. Paper dresses on water /
2012 Artist of the year at west Zealand with Paper Dresses. Exhibition in west Zealand shopping mall. Exhibition in Fields Copenhagen, staging " Wisdom of Birds " with Vokalselsskabet Glass at the Glyptotek. Swimming meditation at Gentofte. "Historically race " in collaboration with Copenhagen Golden Days.
2011 Staging of "Swim Meditation " cultural event at Gentofte Night 2011 work for waterfront shopping Center & Institute for Futures Studies.
2009 Exhibitions in the National Bank, Nestle , Shell , Deloitte, The Black Diamond , Work Scholarship at the danish art Workshops .
2008 Preparation of the art project Salt , water, paper. Art project under preparation 7 dresses made of paper called "salt water paper".
2006 Costume Design for "Light Festival" in Odense: Ingrid Kristensen & Co. Set design for symphonic ballet. Choreography Ingrid Kristensen & Co. Set design and costumes for dance performance on the Iranian poet Forugh Farrokhzad .Choreography by Camilla Stage. Festival "Images of Aisia" Costumes for DGI 's 4 – year rally in Haderslev: 700 costumes.
2005 Set design for the Hans Christian Andersen pageant Liselund Castle, Møn. Set design for childrens theater " swineherd " theater Aspendos . Easter table with 4 scenes from the Bible in Sct. Stephen's Church, Nørrebro. Exhibition at Sofien Holm, Cobra space.
2004 Production design on 6 short films ; b.la. graduation film "Exit Copenhagen " by Lisa Achen and short film " Emil and Hamoudi ," directed by Madhi Fleifel . Set design assistant to Peter de Neergaard on "The young H.C Andersen "directed by Rumble Hammerichsgade .
2003 Set Design/ Production design on "Brothers" directed by Susanne Bier. Culture Nights event 2003 St. Stephen's Church, Nørrebro
2002 Set design for the fashion show Nicolaj Church of departure project Technical assistant Kirsten Delholm Hotel proforma performance of "Chinese Compass" and "Jesus Christ Ood size"
2001 Group Exhibition of Art & Design with the ceramics girls "RAW"